Excavator & Bobcat Services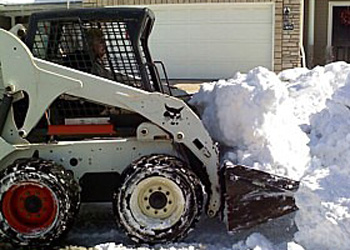 Do you have a project that needs moving earth? We at Atlas Tree and Landscaping Inc can assess your project, check for obstacles, and create a plan for proper and safe execution. When you enlist our services in Mentor, OH, you can rest assured that we will complete the excavation and grading job meticulously keeping in mind the specifics of your requirements.
Professional Excavation Services
We take pride in our experience in providing complete excavation and bobcat services to our clients. As a full-service landscaping company, we understand your projects better. This allows us to deliver better results too. From removing stubborn tree stumps to preparing grounds for patio base to grading and sloping land for effective drainage and sod installation, we can take care of everything. Our licensed operators have over a decade of experience in providing these services.
Some of the projects that our clients seek our excavation and bobcat services for include:
Grading
Drainage ditches
Site clearing
Water features
Structural demolition
French drains
Water flow & drain control
Patios & walkways
Preparation for driveways & parking lots
Soil removal
Soil compacting
Our excavator services often involve cutting away high spots, rises, and hills. It can also involve filling in depressions and low spots. We also provide our services as part of the preparation to fill areas for building foundations. We can also contour lands to improve drainage and water flow. Our skilled operators have completed hundreds of projects of all types and scales. We regularly provide driveway excavation, retaining wall excavation, and sidewalk and patio excavation services.
Our Bobcat Services
At Atlas, we understand that there are certain jobs that standard landscapers can't handle. We are a full-service landscaping company that has excelled and forayed into greater domains. When the landscaping needs exceed the capabilities of typical yard care equipment, such projects need heavy-duty equipment. Our bobcat services cover everything including landscaping and hardscaping construction.
Whether you need a retaining wall, patio, fire pit, walkway, or any other hardscaping service, we can assist with all aspects of the project starting with excavation and grading. We provide our services as part of pool digging, filling-in, and moving projects too. Or else, you may need to make changes to the lay of the land before new construction is started. When you choose our bobcat services, there will be no need to delay your projects to find an excavator and bobcat service provider. We provide expert excavation services no matter the size of your project. We have all the equipment required for your project, ranging from 20 HP to 100 HP and more.
If you need more information about our excavation and bobcat services, feel free to contact us today. We at Atlas Tree and Landscaping Inc are a full-service landscaping company that also provides excavation services. We cater to the softscaping and hardscaping needs of clients throughout Mentor, OH and its surroundings. Call us on
440-728-4879
to talk to one of our experts or write to us using this
Online Form
and we will get back to you as soon as possible.